Hire: Graphic Designer Online – An introduction to fiverr
As I get further into my art career, the more I am finding myself making less and less artwork. This is the exact opposite of what I would have wanted for myself. The bigger something gets, the more maintenance it requires; such is my life as a freelance artist. There are many areas in my life which require my undivided attention and my attention alone – tying my shoes for instance. No matter how successful a person gets, they shouldn't ever have somebody tie their own shoes; should it ever get there, they seriously need to rethink their lives and find some humility. Picking one's nose is another example, it's okay, you've all done it. Sometimes there's just that one little guy who won't come out no matter how hard you blow. This is something I refuse to let another individual take on for me. However, there are certain things that I will let go.
To run a business all by yourself takes its toll on you. To keep up with the day to day paperwork, social media updates, marketing, traveling and all the rest, it gets harder and harder to find the time for actual creating. That's where fiverr really stepped in and made things a whole lot interesting for me. I didn't say easier for a reason, in fact I've found the sheer amount of choices available to you daunting. Once you figure out what it is you want to take off of your plate, the easier it is to narrow down and just pay somebody else to take care of that for you.
If you are just starting out your freelance graphic design business, or Selling art Online, you will start to figure out certain aspects of your life are taking up far too much time than you should be spending on them. If you figure you can sell a painting for $600, and that painting honestly takes you 6 full hours of work, it breaks down into $100 an hour. Now lets say you have an upcoming art show that you want to make a short video for. You want to film all of your paintings, wide shots and up close, then have a logo fade onto a black screen. Unfortunately you don't have quality video editing software, and unfortunately you don't have any sort of experience editing video! You could certainly learn the software, stumble through a clunky user interface in which you are unfamiliar with. Alternatively, you COULD just spend those hours painting instead (remember, you are making $100/h vs. making $0/hour while learning video software that you will only use every so often and will probably need to refresh yourself the next time you need it.)
Why not just pay this guy $5 to do what he does best, edit a nice video while you use your valuable painting time working on inventory!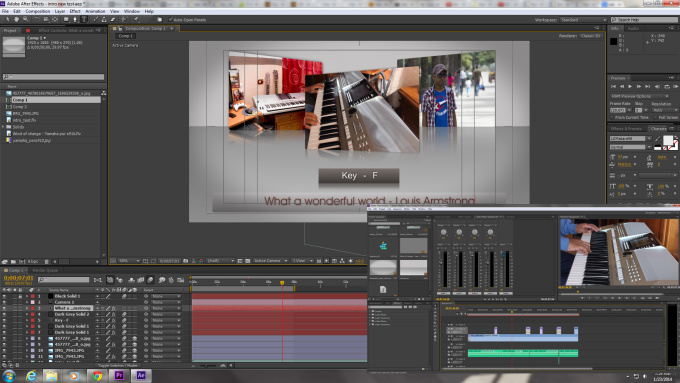 Maybe you have an upcoming art show in Los Angeles, but you don't live anywhere near there? This guy will put up any fliers you might have at heavy foot trafficked areas on his way home from work, for only $5. You could hire your own personal street team to promote your show, or to put up QR codes all around the city to get that sweet bitcoin money. The possibilities are endless!
Maybe you are a budding game developer who doesn't have the cash to hire a big name for voice acting. Why not just pay this guy $5 to read some lines in the voice of Morgan Freeman?! For a little five dollar investment, you've just upped your production value by a few hundred thousand dollars.
Get Yourself Out There
The internet can be a very lonely place when it comes to getting your name out there. You ever think about advertising your products, paintings, clothing lines? This is one area that I was pretty unfamiliar with and attempted with little success, unfortunately I was going about it all completely wrong. Again, I go back to that painting which you could make, or that photo you could take and edit. In the time you spend learning the ins and outs of say, facebook ads, you could have made multiple paintings that you could sell for hundreds. Why not let somebody who has a good track record and knows what they are doing for way cheaper than the time you lost is worth.
Facebook is the 2nd most visited website on the internet with billions of views, if you can get your product in front of even a fraction of that audience, you will come out on top.
this person offers the following services:
√ Design a Custom Red-Hot Fan Page (Google optimized)
√ Increase Facebook Likes/Fans
√ Create Facebook Ads (Page posts, Likes, Lead Gen, Website + More!)
√ Ad Retargeting
√ Website Custom Audiences
√ Custom Target Audiences
√ FB Coaching
√ Review Your Ads
√ Graphic Design (Banner Ads, Cover Photos & More)
√ Market Research (know your Customers & Competitors)
√ INSTAGRAM Ads
√ Custom projects
You now find yourself with so much more time on your hands, time to do what you love.
Need a press release written for your upcoming gallery show?
Press Releases Written
This person will write you something so you don't have to giving you more time to…you get it.
Finances
Now I'm not saying all of you, but most artists I know, myself included aren't that spectacular with math. You will put off invoices, taxes, paperwork, and anything that has numbers attached to it. For just $5 you can get a pretty sweet financial planning setup with this guy's gig.
Whatever it is that you are feeling stressed about, I'm sure you can find a way to pay somebody else to do it for you. As long as you're being productive while they work for you, it's a justifiable cost of operating. If you can make an additional $1000 a month by creating artwork while your virtual assistants on fiverr take care of the menial things, you're going to be a lot happier and in control of your business. At the end of the day, being a freelance artist is a business. fiverr is a very very good asset to have in your tollbox.
Not sure how long this code will last, but the coupon Code FLY20 currently gives 20% off of fiverr gigs.